About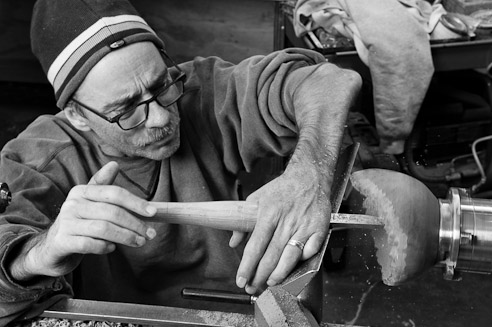 John Lopez was born in 1956 and first started wood turning in 1970. He did hobby work occasionally until a spinal cord injury left him a quadriplegic in 1978. Below he tells how he rediscovered his passion for wood turning:
"I never saw a lathe bench that I could even wheel up to until I built my own from scratch about 25 years post injury and mounted a lathe on it during winter 2003-04. I also thought the first time my gouge touched a spinning blank the tool would catch and fly out of my hands. As a quad my grip is pretty weak but I have pretty good tool control and can work safely by using balance and leverage. I bought a few books and went online. I read a lot before I started and refreshed my memory and as soon as I started going through the motions things came back to me and I remembered the fundamentals from all those years ago. Depending on the species of wood and size of the piece, I'm turning out a few pieces each week. I'm satisfied with some, other pieces get the thumbs down and become firewood. "
John's work continues to become more elegant and he turns woods from around the world. His work has been on exposition in Southern California.
All photographs by Fernando Ramirez.